Recensioner från premiären "Var mig nära" och följande konserter!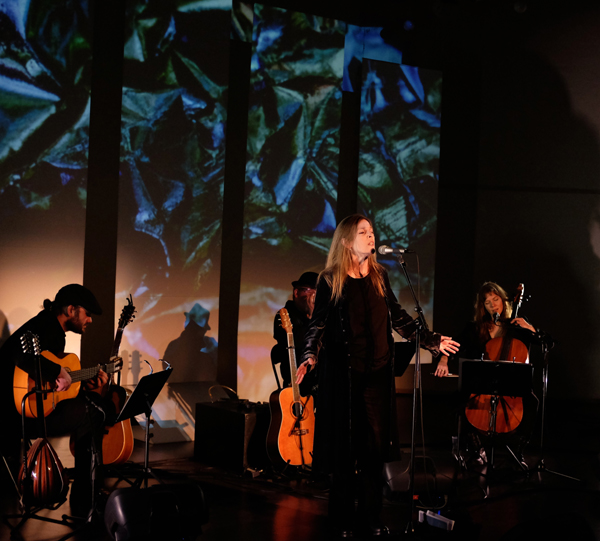 YSTADS ALLEHANDA, musik-recensent Bengt Eriksson skriver:
http://www.ystadsallehanda.se/kultur-noje/sangpoetisk-afton-med-lyhord-dialog/
SKÅNSKA DAGBLADET, musik-recensent Clemens Altgård skriver:
http://www.skd.se/2016/04/07/en-musikalisk-resa-i-mystikens-tecken/
SYDSVENSKAN HALLÅ, journalist Cecilia Lindberg intervjuar Lena Måndotter
http://www.sydsvenskan.se/malmo/halla-malmo/lena-mandotter-vill-komma-lite-narmre/
SKÅNSKA DAGBLADET, journalist Yvonne Erlandsson intervjuar Lena Måndotter
http://www.skd.se/2016/03/29/med-inspiration-fran-myterna/
You can download Lena Måndotter's artist statement and CV here.
------------------------------------------------------------------------------------------------------------------------------
PRESS-RELEASE: LENA MÅNDOTTER at PALLADIUM text in Swedish as PDF to download
PRESS CONTACT: info (at) lenamandotter.com    Phone 0730380037
PRESS PICTURES Lena Måndotter TOUR 2016 (download high resolution below)
"Lena Måndotter has a grand artistic expression and during her summer-tour 2015 she recorded her live tour and released a series of singles. Her artistic style and voice fits perfect for the songs of the Russian composer Vladimir Vysotskij, excellent together with cello and acoustic guitar. These two songs are so good and I hope and wish Lena Måndotter will release a whole album with songs of Vysotskij."
BENGT ERIKSSON, YSTADS ALLEHANDA
"Letters to a Young Singer is a brave film about the worlds of song and myth. I have deep respect for her creativity and professionality as a filmer, and as a producer, because the production is also very beautiful. I really hope she continues filming!"
HENRIK VON SYDOW, SVT ­ Swedish National Television/Broadcasting.

"The film LETTERS TO A YOUNG SINGER clearly shows Lena Måndotter's deep understanding of the connection between song and psyche and the body-soul work. Lena is a singer, song-therapist, writer and film-maker and the depth of the movie is shown in the original and convincing way she uses the images! People who watch this movie will be moved at a deep level and even if they don't understand everything with their heads; their bodies will definitely understand"
MARION WOODMAN, Jungian analyst based in London/Ontario, Canada, and internationally known writer, lecturer and seminar-leader.
"an evocative collection of songs...well put together, tightly connected around the themes of hope and loss, love and despair...the musical form is in the singer songwriter tradition...dramatic andfateful...very impressive in many ways"
ANDERS JADERUP, SYDSVENSKA DAGBLADET (SWEDISH NEWSPAPER)
"excellent songs, in the same musical spirit as Walkabouts and Cowboy Junkies. Lena Måndotters dark and lightly veiled voice also reminds me of the singer Margo Timmis...the musical way of mixing harmonica with lots of cello and violin gets me finally on my knees."
PETER SJÖBLOM, MUSIC-MAGAZINE GROOVE (SWE)
"Lena Måndotters vocals and stage performance is excellent and she holds her audience's attention like very few artist can. And the concert also contains a lot of humour and deep intimacy"
SVENSKA DAGBLADET, SWEDISH NATIONAL NEWSPAPER
"Lena Måndotter singing style is very poetic and it is in the world of song and poetry she deeply belongs"
KVÄLLSPOSTEN/EXPRESSEN,SWEDISH EVENING NEWSPAPER
"Lena Måndotter's Cohen-cd shows the art of balance with intuition and feeling and mirrors the musical development of Leonard Cohen; from the individual to the universal themes. Even though Lena is faithful to the original versions she has created her own special musical arrangements and singing-style for the songs which really catches the undertones of the lyrics. Lena Måndotter has found the narrow path between her own artistic expression and Leonard Cohen's. So it doesn't matter if you like Leonard Cohen or not; Lena Måndotter's versions are well worth listening to."
LIRA MUSIC- MAGAZINE, Jan Carlsson
I really like the Swedish singer Lena Måndotter's deep and intimate interpretations of Leonard Cohen's songs. The sparse and tasteful musical arrangements also leave the necessary space for her strong though sensitive vocals. Acoustic guitar, bouzouki and cello mirror very well the atmosphere of each song. It is difficult to choose only one favourite-song but if I could only choose one it would have to be 'By The Rivers Dark'. It suits Lena's voice perfectly!"
JARKKO ARJATSALO ­ The LeonardCohen -files

Lena Måndotter interprets and performs Leonard Cohen's songs with great warmth and deep intimacy. All concerts have been sold out since she started the tour 2006"
SWEDISH RADIO
"Splendid! The most intimate and heart-warming concert I've heard in a long time. Lena Måndotter's voice and singing is perfect for Leonard Cohen's songs."
SKÅNSKA DAGBLADET (SWEDISH NEWSPAPER)
"sensual and dark dreaming vocals"
BERLINGSKE TIDENDE (DANISH NATIONAL NEWSPAPER)
"the music creates connection and sense... it's tightly held in a laidback way but there are also some heavier and darker parts...Lena Måndotter's strong vocals give the music it's natural centre. The acoustic accompaniment is intuitive and there are some powerful solos .Hearing them live on stage breath even more energy into these songs"
MAGNUS ERIKSSON, SVENSKA DAGBLADET (SWEDISH NATIONAL NEWSPAPER)

"Lena Måndotter has a long experience of Leonard Cohen's songs and on this cd she is faithful to the originals. It is a very difficult musical task but Lena manages well thanks to her chamber music arrangements: cello, mandola, acoustic guitars, spiced with some greek bouzouki. Her voice is really taylor-made for Cohens atmospheric songs."
DALADEMOKRATEN (Swedish Newspaper)

"To release a cd with interpretations of Leonard Cohens songs is a difficult and tuff task. But Lena Måndotter shows a deep respect for the original songs and has performed them with great success. She now forms this album with her vocals and beautiful and very well suited musical arrangements"
MUSIKINDUSTRIN (The Swedish Music-bransch Magazine)

"Lena Måndotter sings Leonard Cohen's songs with real feeling and authentic dignity. The musical arrangements also give a new dimension to the original songs. All one can do is just listen and fully enjoy these charming interpretations of Cohen-hits."
VÄRMLANDS FOLKBLAD (Swedish Newspaper)
Last year Lena Måndotter released a very appreciated cd with interpretations of Songs of Leonard Cohen. This follow up cd Songs From The RIver" is a collection of her own songs and also interpretations of classic folksongs. Lena's dark, both mellow and intensive vocals binds it all together and creates a sense of wholeness. Her own compositions are very impressive and the musical instrumentation is intuitive and in perfect understanding with her singing. This cd Songs From The River is one of my favourites, just like her Cohen-cd. Now I am looking forward to a cd with only compositions of Lena Måndotter. Her musical talent and capability is so obvious".
LIRA MUSIC-MAGAZINE, Jan Carlsson
"tremendously exciting"
TV2/SWEDISH NATIONAL TELEVISION
"an exciting band with big potential. The music is a tasteful and alternative mix of folkmusic, pop, rock and classical avantgarde-music; a seductive musical blend. Seeing them live at the Hultsfred- festival, they're doing an excellent gig...Through their talented musicianship one realises this is profound art!"
JOHAN SÖDERLUND, ROCKPARTY MAGAZINE, reviews on the web (SWE)
"great songs about the state of the world...the performance does not
resemble anything else on the Swedish music-stages right now...the concert goes against the mainstream and challenges the predictable and wellknown, in a unique mix of serious spirituality with political undertones - not overtones...and the music really swings...anoutstanding and exciting music-performance. And those of you who can't see the concert - buy the cd!"
INGELA BROVIK, SKÅNSKA DAGBLADET (SWE)

"subtle and skillful music"
FELICIA, SWEDISH NATIONAL RADIO P2

"intimate and skillful music and Lena Måndotter's singing is both vulnerable and strong"
SKÅNSKA DAGBLADET (Swedish Newspaper)

"beautiful musical arrangements and Lena Måndotter's warm voice and skillful singing shows that she knows Leonard Cohen's songs, for sure!"
SUNDSVALLS TIDNING (Swedish Newspaper)
"Lena Måndotter's interpretations of Leonard Cohen's songs are very intuitive and exciting. A beautiful combination of the warmth of the solitary voice and tasteful musical arrangements."
SWEDISH NATIONAL RADIO P2, Marie Vesterholm
"Many of Lena Måndotter's musical and literary projects have, since 1993, been supported by the Skåne Regional Council - Department of Cultural Grants, Department of Cultural Grants/city of Malmö, The Savings Bank Foundation Skåne, The Swedish Writers Organisation, The International Writers Centre: Waves of Three Seas - Greece and The Cultural Organisation of Agios Stefanos - Crete Greece, The Swedish Institute, Centre Culturel Suedois in Paris, Studieförbundet Sensus, Studieförbundet ABF-Skåne, Folkuniversitetet Malmö, Studiefrämjandet Malmö, The National Council For Cultural Affairs and many others".