Film-screening:
Lena Måndotter's film "Letters to a Young singer", a film about song and psyche. "Voice as Life-line", international online conference with IAVMT - The International Association of Voice Movement Therapy. Saturday 1 April at 9.30 (Swedish time).
This online conference also has many more events. See this link for registering and more information.
https://iavmt.org/voice-as-lifeline-an-iavmt-online-conference-2023/
5 October 2023 at 17.00 - 18.45, film screening in combination with lecture at ISAP, International School of Analytical Psychology, Zürich/Switzerland.

18 November 2023 at 12.00 - 14.30, film screening in combination with lecture at C G Jungstiftelsen, Stockholm, Sweden.

LETTERS TO A YOUNG SINGER
a film about song and psyche
by LENA MÅNDOTTER
LETTERS TO A YOUNG SINGER is filmed in the Cretan mountains in Greece, where Lena Måndotter lived for many years. Its a film about song, psyche, soul and body and its transpersonal dimensions. Its a journey into myths and dreams with the intention to heal and protect what can be called sacred.
"Letters to a Young Singer is a brave film about the worlds of song and myth. I have deep respect for her creativity and professionality as a filmer, and as a producer, because the production is also very beautiful. I really hope she continues filming!"
HENRIK VON SYDOW, SVT ­ Swedish National Television/Broadcasting.

The film LETTERS TO A YOUNG SINGER clearly shows Lena Måndotter's deep understanding of the connection between song and psyche and the body-soul work. Lena is a singer, song-therapist, writer and film-maker and the depth of the movie is shown in the original and convincing way she uses the images! People who watch this movie will be moved at a deep level and even if they don't understand everything with their heads; their bodies will definitely understand"
MARION WOODMAN, Jungian analyst based in London/Ontario, Canada, and internationally known writer, lecturer and seminar-leader.
FILM-CREW:
Film-Director/script/editing/songs: Lena Måndotter
Film-photography/sound/editing: Thomas Frantzén (Filmworks)
Sound-mix: Alexander Thörnqvist (SVT)
Music-recordings: Lotta Wenglén (Margit Music Studio)
Creative Consultant & Masks: Ronnie Hall
(Many thanks to all friends and the villagers of the Cretan village Agios Stephanos, and gratefulness beyond words to musical guardian Orpheus and to Nanouk, beloved dog).
"A series of photographies fram the Cretan mountains, taken from the filming of LETTERS TO A YOUNG SINGER (part one). Some of the film clips made it into the film. Some just made it into my heart and I keep them as treasures in my memory".
LENA MÅNDOTTER
EARLIER FILMSCREENINGS and FILMSEMINARS
The film LETTERS TO A YOUNG SINGER (part one) had its premier at one of Sweden's most known filmfestivals - Båstads Filmfestival in 2009. Since then the film has been screened at many venues; for example Skånska Filmdagarna and Ifema Filmfestival in Malmö (Sweden), IAVMT conference in Graz (Austria), Spirit Filmfestival in Paris, ISAP in Zürich (Switzerland), Culture Unplugged and Kulturhuset in Copenhagen (Denmark) and many more venues. Lena Måndotter also often screens the film in her seminars about the psychology of song. (see Song Workshop Page) Please send us a mail if you are interested in screening the film or arrange a film seminar.
Letters to a young singer can be orderd below.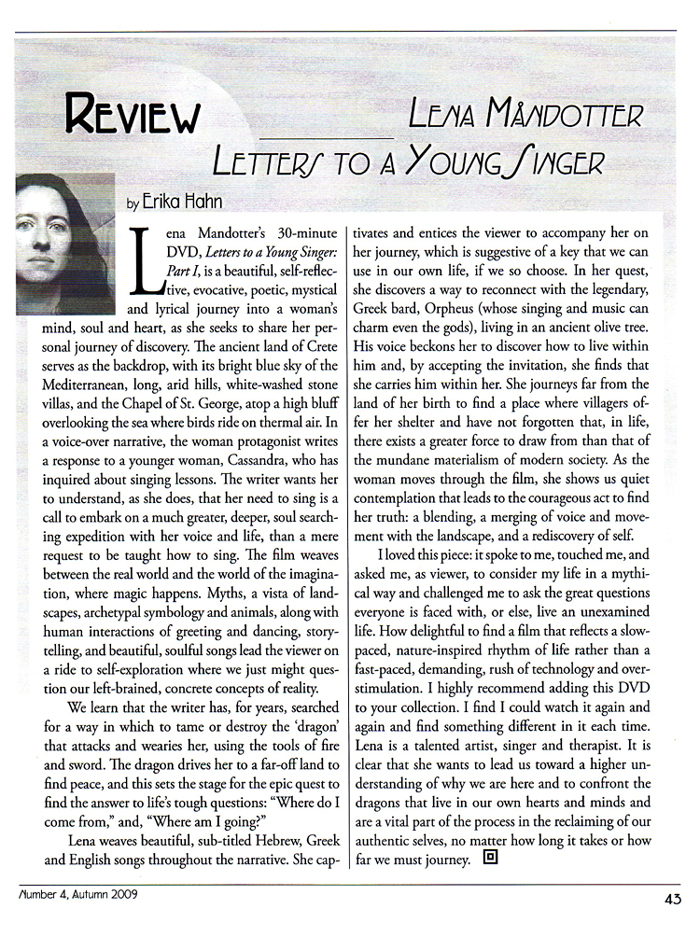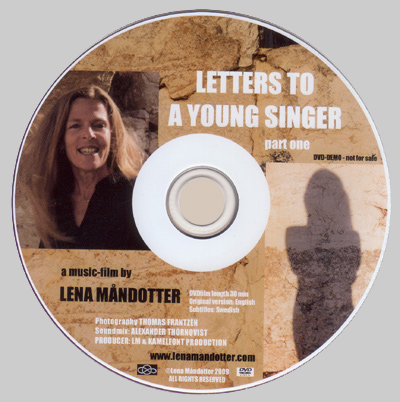 LETTERS TO A YOUNG SINGER, part 2
We have begun the pre-production of the film "Letters to a Young Singer", part 2. The film-crew has been Lena Måndotter, cello-player Åsa Gjerstad, film-photographer Thomas Frantzén and creative consultant Ronnie Hall. We now have a short film of 12 minutes ready and plan to continue creating the film this summer. Please sign up for our mail list if you want to stay updated info (@) lenamandotter.com
Our initial creative work with the new film project has received kind support from The Savings Bank Foundation Skåne and The Norma G Canner Foundation, USA.
Lena Måndotter's vision is to continue creating six more films in the film-serie Letters to a Young singer - a film about song and psyche. The intent with these films is to show how music and song can heal our bodies and souls and increase our health.
You are welcome to support the following films and you can do it here by a donation through PayPal. All sponsors and donators will be listed on this page and in the films unless other is required.

This film has received kind support by:
SPARBANKSSTIFTELSEN SKÅNE
REGION SKÅNES KULTURNÄMND
STUDIEFÖRBUNDET SENSUS
SVENSKA INSTITUTET - Centre Culturel Suedois
WAVES OF THREE SEAS - international writers and translators centre - Rhodos Greece
CULTURAL ORGANISATION OF AGIOS STEFANOS - Crete Greece